Walks around Buckland and Betchworth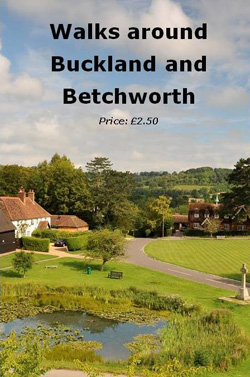 Our local walks booklet is available to buy, for £2.50, from Buckland Nurseries, The Pheasant or Betchworth Post Office. All funds raised from the sale of the booklets are donated to Buckland Parish Council to support use of Buckland's footpaths and bridleways.
Walks described in the booklet
Buckland Lanes and Fields – 1.5 hours (3.5 miles)
Betchworth Park and Old Park Wood – 2.75 hours (5.25 miles)
North Downs Way and the Three Greens – 1.75 hours (3.5 miles)
Windmills and Farms – 2 hours (4.5 miles)
Rice Bridge and the River Mole – 2 hours (4.5 miles)
Beating the Bounds – 3 hours (6.5 miles)
Historical Buckland – 1 hour (1.75 miles)
We are delighted to advise that in May 2017, a new batch of booklets has been printed (including minor revisions) after the 850 copies of the previous edition (2012) had sold out, raising over £1,800.
The first edition of 2003 arose from the analysis of a village questionnaire that was circulated to all Buckland residents in 2002. The questionnaire attracted a 85% return and half the respondents said they would welcome leaflets of local walks, and over two-thirds said they would appreciate maps of local footpaths. The Parish Council led the publication with a team including Jim Docking, Joan Gregory, John Lane and Duncan Ferns.