The story of Buckland Village School: 1822 – 1981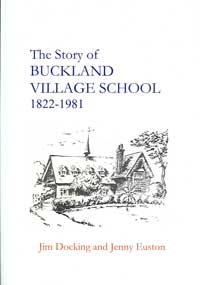 Jim Docking and Jenny Euston
Published November 2006
ISBN 978-0-9554350-0-3
This book tells the story of Buckland's Church of England village school in Surrey from its foundation by the National Society in 1822 to its closure by the county council in 1981. It is a tale of vision, determination, benevolence and humour, but also one of disappointment, frustration, personal grievance and sadness.
The authors were able to benefit from a wide range of documentary sources, including head teachers' log books, managers' minutes, parish and church records, official correspondence, inspectors' and surveyors' reports, press reports, an account book with entries from 1855 to 1880, an admissions register dating from 1865, a punishment book going back to 1913 and private collections of papers and photographs. The findings are supplemented with the memories of past pupils (174 are listed in the index!), parents and school staff, and the text is enlivened by many illustrations.
The book is now out of print but is available from Inter-library loan from Dorking/Reigate/SHC Woking libraries. It is also available on-line here – courtesy of co-author Jim Docking – by clicking the links below.